If you are not using your computer or even not "intensively" using it, the hard disk drive LED still flash all time or just stay solid-on. Sometimes you can even hear that the hard drive is grinding. It can still happen even if you have closed all running programs. If you're using laptop, it's even worse because the fan will start spinning like mad.
This hidden process/program is slowing down your computer and sometime makes it un-usable.
To find out what hidden process/program is using your hard drive, you can google for some free tool and run it on your computer. You need to be careful what kind of tools you can run on your PC. Install a trust-worthy Antivirus software such as ESet before you install anything.
However, if you are using Windows, you can use the task manager. Start your task manager, click 'View' and then 'Columns', tick the 'I/O Read' and 'I/O Write' ticboxes. Click 'OK'. And then on the task manager, click on 'Processes' tab, click on the 'I/O reads' heading so that you can see which process/program is using the most of such resources. You can right click on the process and kill it if it is not part of the core processes.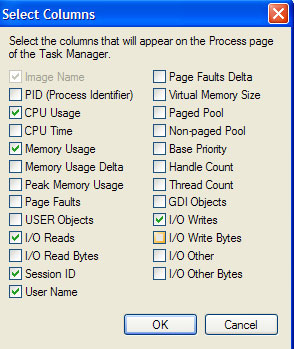 Task Manager IO options